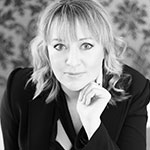 Welcome to the Forty Over 40 blog. Every week we spotlight one of our honorees and their thoughts on reinvention, mentorship and momentum…plus a peek into what makes them tick.
his weeks Q & A is with Melissa Sterry, Design Scientist, and founder of Bionic City, which seeks to answer the question 'How would Nature Design a City?' and a collaborator in Leapfrog Project, which works in partnership with organisations including American Institute of Architects and RIBA-USA to develop blueprints for rebuilding urban areas devastated by Typhoon Haiyan.
1.  What was a pivotal momentum of reinvention for you?  While not a reinvention as such, 2009 was a pivotal year for me. Clocking in an average 100-110 hour working week, leading or co-leading several projects, atop of which I juggled various committee roles both in the UK and overseas, having not taken a holiday in several years, something had to give. I was busy, very, but felt unfulfilled, and namely because creatively and intellectually I felt unchallenged. Leadership was all well and good, but I wanted new opportunities to learn and to evolve my thinking and perspective.
Simultaneously, while an environmentalist since childhood, several conversations I had around that time led me to feel that the imperative to tackle sustainability issues, and in particular biodiversity loss, resource shortages, climate change and its secondary impacts, was altogether greater than I had previously conceived. Having read through umpteen on and off-record reports on the outlook for people and planet, my take on the future was "the sh*t is going to hit the fan and humanity is ill-prepared for what's coming." I spent six or so months thinking through how my skills, expertise and personality was best suited to help in the effort to tackle the challenges that may lay ahead.
On drawing my conclusions I edited out various roles and responsibilities, drew up a research and development programme to inform my vision, and hooked-up with a mentor that understood and supported my aims and objectives. I no longer work seven days a week, and sleep deprivation is off the agenda. I take holidays more or less when I want to. Do I get more or less done than I did five years ago? Less is more, because having focused my efforts my productivity is usually higher, as is my energy and fitness level.
2.  How did you get your first job? How did you jump to your second job?  It's not so much a case of how did I get my first job, as how did I get my first 'jobs'. From mid teens onwards, I've more or less persistently juggled three to four jobs at a time. Aged 15 I was holding down a handful of jobs outside of school, including my first freelance branding and design commission, which I landed when the editor of consumer magazine saw my portfolio and recommended me to the client. Other jobs that same year included waitress, office admin assistant, shop assistant and fruit picker. Along with funding my art materials, social life and wardrobe, the various jobs gave me experience of multi-tasking, as well as insights into negotiating, sales, marketing and all manner of other useful skills upon which I've been building ever since. Above all, the jobs were what my family calls 'character building', meaning they weren't all fun and games, but we've had a good few laughs about some of my experiences!
3.  What is the best piece of advice you ever received?  My school Head of House was a wise, observant and good humoured man by the name of Mr. Williams. An introverted, but confident school girl that preferred to study alone, rather than in class, it's fair to say that my school attendance record pushed the boundaries of acceptability, and that this was a matter of significant concern to several of the teaching staff, whom frequently raised the issue. Thankfully, Mr. Williams always fought my corner, recognising that my regular absence was by no means indicative of any lack of ambition or ability, as was reflected in my exam grades and coursework. Therein, he and I had regular meetings, some of which were congratulatory, as I picked up another commendation, others dealing with the latest in the string of attendance related complaints. During one such meeting he commented that I reminded him of his younger self, in that I persistently pushed myself ever harder and farther in the pursuit of achievement. He recounted an episode of his past, and having so done imparted the most valuable advise I've ever been received. He said that one should never forget that the higher you aim, the greater the distance that you may fall, and that if that time comes, you really mustn't be too hard on yourself. This is of course a lesson that all they that persistently aim high invariably learn, and usually the hard way. But, aged 14 the notion of failure was alien to me and would remain so for a good few years to come. When that moment did arrive Mr. Williams' advise spurred me to pick myself up, dust myself down and start over, and over and over again.
4.  What was the last business book you read?  When Cultures Collide: Leading Across Cultures, Third Edition by Richard D. Lewis. My fascination with different belief systems and cultures goes back a long way, but the older I've become, the more I've realised the value in diversity, and have come to appreciate different cultural perspectives. Generally speaking, I'm pretty pre-occupied with psychology and with human behaviour in the broadest sense, and have read a fair few books on the topic. However, while some tomes merely regurgitate that which has been discussed before, When Cultures Collide provides genuinely unique and truly invaluable insights that really help to make sense of the complex global society we now find ourselves amidst.
5.  What song can't you get out of your head? If my life had a soundtrack it would be written by Fleetwood Mac. While I love the works of a great many artists, Buckingham, Nicks and McVie's lyrics resonate with me in a way that many don't. Many a friend has heard me singing their songs, be it back in the days when I dabbled in a folk band, or after a few too many drinks at one or another get together. It's a close run thing as to which of their songs I love the most, with 'Landslide', 'Dreams', 'Tusk' and 'Honey Hi' vying for the top spot, but 'Don't Stop' likely clinches it, as it's not only a song I belt out in the good times, but in the bad times too, not least when I need to pull myself together, be it because I'm facing a storm in a teacup or something rather more serious!
6.  How do you unplug? How often do you unplug?  How often I unplug is very much dependent on how many deadlines I'm contending with at any given time. However, I try to have at least some down time every day and unplug in a variety of ways. Most days I'll set aside around 20 minutes to engage in some kind of informal study of nature, be that a walk in the reserve adjacent to my home, a potter about my allotment or garden, or on rainy day taking a look at one or another flora or fauna species close-up under the microscope. On a clear night there's nothing I love more than some stargazing, be that with my telescope or with the naked eye, at home or afar. I find looking to the natural world is relaxing, insightful and exciting in equal measure, and particularly so if you keep an open mind about what you will discover. I also love various martial arts and try to make one or more training sessions a week. I find kickboxing is particularly good for letting off steam. I'm fortunate to be a member of a great club, AKA, which led by a dedicated and talented team, is attended by a focused, but fun crowd. They know if I've had a tough week, because I really let rip on pads! Other passions include making images and noise in studios, and in particular the visual arts, although I like to mix things up every now and then and to dip my toes in a variety of creative activities, both using traditional and new media.
7.  What is your biggest goal right now?   My biggest goal is to continue researching and developing my hypothesis, which investigates city-scale resilience to major natural hazard events through the creation of complex adaptive systems that mimic the behaviours, relationships and systems of flora and fauna species. I'm principally exploring this hypothesis through three channels; a PhD that's been underway since 2010 and which I anticipate completing within the coming 18 months; Bionic City®, which serves as a platform for collaboration and co-creation with like-minded peers worldwide, and which seeks to answer the question "how would nature design a city?", examining the potential of biomimetics, biotechnology and bio-Inspiration in the built environment in the now, near and far future; Leapfrog Project, which formed in response to the devastation caused by Typhoon Haiyan, brings together an international collective of built environment professionals to help the Philippines rebuild with new-found resilience. Further activities that help advance and communicate my research include co-curation of a postgraduate-level lecture series exploring the potential of bio-informed design; keynote lectures at academic, corporate and consumer events worldwide; authoring ebooks and articles on the subject; consulting to industry on biomimetic design and thinking; and curation/co-curation of media and events that further extend awareness and understanding of biomimetics, such workshops, social media chats and webinars. I believe that the study of flora and fauna and the relationships therein, presents unlimited potential to inform new innovations, inventions and ideas. Furthermore, anyone, anywhere can participate in this activity, which makes biomimetics a universally accessible research discipline.
8.  What challenge / achievement are you most proud of?  Generally speaking, while I'm proud of various past works, I don't dwell on them, namely because I'm more or less constantly pre-occupied with the future and what could be, rather than what has been. Furthermore, I see the past as a connected whole, wherein success and failure went hand-in-hand, the latter often creating the clearing that enabled the former. Therein, if I'm proud of anything at all, it's that's my optimism and enthusiasm are intact, despite the various challenges along the way!
9.  What cause do you most want to advance?  Presently, on the whole, humanity treats animals as commodities that exist merely for our convenience. Biodiversity is more or less universally taken for granted, and so much so that within just three decades we have destroyed one third of all biodiversity on Earth. Human activity is currently depleting flora and fauna species at such pace and scale as for several experts to estimate a loss in the region of 25-50% by the century's end. The very worst-case scenarios I've seen put anthropogenic impacts on biodiversity on a par with the Permian–Triassic extinction event, wherein it's anticipated that the collective impact of past, present and future human activity will culminate in 90% or more species being lost within under two centuries. While some hypothesise that we could 'bring species back from extinction', while I think this may be plausible in regard of several flora species, with the exception perhaps of a few micro-organisms, I very much doubt it applies to fauna. The scientific logic therein is very simple. Fauna species are not merely the sum of their biologically parts. A great many macro fauna species, and in particular mammals, exhibit some form of culture, i.e. behaviours that are learned through social interaction between parent and child and/or family groups. While I am anticipating significant leaps forward in our understanding of the neurobiology of fauna species, we are nonetheless a long way from gaining a comprehensive insight into animal intelligence and culture, and presently we have no plausible means of artificially replicating the know-how that one generation of macro fauna species passes onto another in the wild. The many attempts to 'value' nature remain nothing if not crude, in that they try to estimate that value in terms of perceived 'services', such as pollination. I perceive the value of biodiversity as being far too great to calculate, not least because as Sir David Attenborough observed, each of the many species on Earth is a different solution to the 'problem of staying alive' – born of a global R&D process that's been underway for 3.8 million years or more. In other words, in biodiversity we have a data base of evolving prototypes that can illustrate possible, sometimes very exotic and extraordinary, solutions to the many difficult challenges we now face. That aside, without biodiversity life on this relatively small spherical lump of rock spinning through space at some several hundred miles an hour becomes unviable. How can you put a price on that? How can you put a price on Life? My dearest hope is that humanity comes to realise how immensely lucky we are and how the various species about this world, no matter how small or large, near or far, deserve our respect, our compassion and our whole-hearted effort to ensure that in the event they do become extinct, we – humanity – are not to blame.
10.  Who has been a valuable mentor or sponsor? A remarkable and inspiring woman, my mother has ceaselessly supported me in achieving my hopes and dreams. She is smart, good humoured, humble and kind. An outstanding role model, my mother has overcome every adversity with intelligence and integrity, conducting her actions with compassion and generosity. I have learnt much from her, not least the virtues of understatement, subtlety and due diligence.
My late Uncle, my mother's older brother Mike, was also instrumental in my development. Autodidactic, his knowledge was wide-ranging and profound, spanning all genres of the arts including film, music, fine art, poetry and literature. A passionate environmentalist, with a deep interest in philosophy and culture, he cared not for material goods, nor for status, nor power, but for people and planet and cared for them greatly. He was a great character, with a twinkle in his eye, a tale to tell and many an adventure to be had!
11.  What is your secret indulgence?  What's not? I'm an advocate of quality above quantity and make no bones about liking the finer things in life! Whatever is it, be it something I eat, drink, wear, use or visit, I like it to be well put together. However, regardless of what it is, it's utterly imperative that it's produced both ethically and sustainability, because there's absolutely nothing that turns me off more than something that isn't.