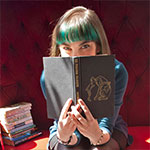 Welcome to the Forty Over 40 blog. Every week we spotlight one of our female disruptors and their thoughts on reinvention, mentorship and momentum…plus a peek into what makes them tick.
This weeks Q & A is with Stacy Ratner founder of Open Books, a nonprofit social venture that provides literacy experiences for thousands of readers each year through inspiring programs and creative capitalization of books.
1)  What was a pivotal moment of reinvention for you?
Almost three years ago, my nephews were born. I don't have children of my own and hadn't thought I'd have the chance to be an aunt, so this was a moment of revelation and recalibration: I realized I wanted to be someone they would always be excited to see and proud to know, and that that would mean being present for them any time, any place, and in any way possible.
2)  Who has been a valuable mentor or sponsor?
I am so, so lucky to be surrounded by the Open Books team, who continue to teach me about the challenges, possibilities, and rewards of what we do every single day. They sponsor this idea of mine with their time and talents, offer both practical and challenging mentorship, and provide unforgettable examples of what can be done by a group of people with a common cause and genuine desire to change things for the better.
3)  What is your biggest goal right now?
I am currently co-leading the initiative to open the Literacenter, a shared workspace and cause beacon for more than 80 literacy organizations across Chicago. In some ways, it's the most significant project I've ever undertaken, because the goal is so big: we are determined to bring everyone who cares about this issue into one place to collaborate, communicate, and cooperate with each other towards our shared vision of a 100% literate city.
4) What is your "keep me going" quote?
"It is not incumbent upon you to complete the work, but neither are you at liberty to desist from it." (Pirkei Avot)
5) How did you get your first job? How did you jump to your second job?
I got my first job, which was an entry-level position in catalog production (copywriting and graphic design), from a classified ad in the newspaper. It was the last time I worked for anything other than a startup: my second job was co-founding a computer consulting firm with my brother, and every gig since then (including Open Books) has been an entrepreneurial venture as well.
6) What cause do you most want to advance?
I believe that once a person is fed, housed, clothed, and safe, the most crucial thing they can be is literate. There is no substitute for the ability to communicate through written language, which makes it possible to do everything from meeting basic needs through touching the future. I came to the field eight years ago with a naive appreciation of its potential and a willingness to submerge myself in it. Now, a little more educated and a lot more humble, I hope I will be lucky enough to spend the rest of my working life working on the cause of literacy, and making it possible for people at all levels to get involved.
7) How do you unplug? How often do you unplug?
My three favorite ways to recharge are to read mystery novels, to go to the park with my beagle, and to make quilts. (I do listen to audiobooks when quilting, but I think it still counts as unplugging. 😉 ) I try to do at least one of these things every weekend.
8) What is your secret indulgence?
I don't have a lot of secrets, so everyone already knows: ice cream. I eat some every day.
You can read Stacy's full #40over40 profile here and follow her on twitter here: