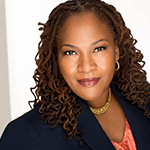 Welcome to the Forty Over 40 blog. We frequently spotlight one of our honorees and their thoughts on reinvention, mentorship and momentum…plus a peek into what makes them tick.
This Q & A is with Diahann Billings Burford, Executive Director, Cultural Investments, Time Warner Inc.  Diahann is innovating her field of work by serving as a senior member of the Cultural Investments management team in NYC and by founding leader of NYC Service- a mayoral agency created to promote civic engagement as a solution to citywide challenges and meet the Mayor's State of the City pledge to answer President Obama's nationwide call to service.
1) What was a pivotal momentum of reinvention for you?
The moment that I decided to stop practicing law was a pivotal moment of reinvention for me. I was at a great firm in reputation, compensation and colleagues, but it was not the place that I was meant to be. That was not the way that I was going to make my impact on society. I was returning to work for an organization-Prep for Prep- that I had both benefitted from as a child and worked at as an adult. Though I was returning to a familiar place, my role was different and I was a different person. I returned not only in a more senior position with different responsibilities, but also as a more mature person with a clearer sense of leadership, how I planned to impact the world and where I wanted this journey to take me.
2) Who has been a valuable mentor or sponsor?
Former First Deputy Mayor Patty Harris has been an influential sponsor for me. As a boss, she was demanding and exacting. Her clarity of purpose and her savvy are unrivaled. At the same time, her commitment to team building and managing people who have whole lives is always present. Patty set high standards, required that I reach them or at least be aiming for them at all times. Patty saw my success as a proxy for her own. Her feedback was often direct and immediate. Most importantly, once I gained enough of her professional trust, she let me fly. She encouraged me to constantly think bigger and do more. My perceived limits of my own abilities changed drastically under her leadership.
3) What is your biggest goal right now?
To assure that I am growing as a person and professional even as I continue to make a positive impact on as broad a level possible.
4) How did you get your first job?
For my first summer job, I was a Summer Youth Employment worker at the Department of Motor Vehicles. My first full-time job was as a teacher at an independent school in West Hartford, CT. At Yale I majored in Psychology while also earning a teachers' certification minor in secondary history. Through the teachers' certification program, I interviewed at various schools for teaching positions. How did you jump to your second job? I leveraged an existing network for my second job and I returned to, Prep for Prep an organization that I had both benefitted from as a child to be their college counselor.
5) What time do you typically wake up?
6:30am What do you do every morning? Wake up my kids. Read the news and Facebook. Laugh. Pray.
6) How did you feel on your 30th birthday?
That was a tough year. It was my first birthday without my mother, as well as my first birthday with my daughter. What were you doing at that time? I was completing law school and preparing to take the New York State bar exam.
7) How do you unplug?
Read or exercise. How often do you unplug? Between the two—daily.
8) What challenge / achievement are you most proud of?
Graduating law school while raising two awesome children and surviving the sudden lost my mother.
9) What was the last business book you read?
Thrive by Arianna Huffington. While not a pure business book, it has been pivotal in helping me to how to understand how to better integrate my authentic self to my work life. The insights from this phenomenal business leader have helped me greatly.
10) What cause do you most want to advance?
The equality of educational opportunity has been invaluable to shaping my current life. My experiences have taught me that education truly equals freedom. It is hard for me to imagine at times that there is anything greater we can provide to both those that "have" and those who "do not have" to improve society. At the same time, as I mature, I am coming to realize that the most important behavior to change is that we each treat other individuals with true humanity. That one change in thought and deed corrects so many wrongs, heals so many wounds, solves so many problems.
11) What song can't you get out of your head?
Tracy Chapman – Born to Fight
12) What is your "keep me going" quote?
"I am the master of my fate. I am the captain of my soul."
Check out Diahann Billings Burford's full 40 Over 40 profile here!