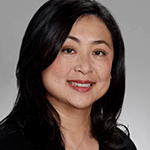 Welcome to the Forty Over 40 blog. We frequently spotlight one of our honorees and their thoughts on reinvention, mentorship and momentum…plus a peek into what makes them tick.
This Q & A is with Chia-Lin Simmons,CEO/Co-Founder, RedHelicopter; Founder #binderfullofwomenfounders. Chia-Lin is innovating her field of work by developing technologies to help parents identify and address child self-regulation and independence and aiding the development of a smart parenting "assistant" technology.
1)  What was a pivotal moment of reinvention for you?
By November 2015, I had spent years as a marketing and business development executive for large corporate technology companies, as well as for venture capital-backed startups. I am extremely good at what I did – I am an excellent tech executive. I have a track record of building revenue, acquiring and retaining customers and securing amazing deals. And last November, I was a marketing executive at Google while working on a number of my own "startup" projects and thinking about what I wanted to build for myself and other parents as my "hustle" or "second job." I wanted a new challenge, an experience profoundly and uncomfortably different from what I had done before. But I was afraid. Like a lot of women, I had worked hard and built expertise, but still had imposter syndrome, thinking that I needed yet another executive job to add to my resume before I could become the perfect founder and CEO for my own startup. That same November, I attended the Summit Series at Sea to think through my options. I met so many accomplished people who took the plunge to pursue their dreams. The person who stood out the most to me was Jimmy Chin, who directed the award-winning documentary film "Meru" about his death-defying climb with his team. When asked why he decided to include an injured climber on his team (it added a tremendous amount of risk to the undertaking – a risk that was literally life and death), he said simply that he went with his gut feeling that he trusted that individual and it was the right thing to do. That really struck me because even though my decision was not physically life and death, it felt like spiritual life and death. Was I going to let imposter syndrome hold me back? Did I trust my gut and my experience to tell me that it was time to start my own company? Was I ready to not just be a great technology executive, but to be what I dreamed of being — a great technology company founder? That was the moment of reinvention for me. After that trip I began building my narrative, forging a new path toward being the founder of my own company.
2)  Who has been a valuable mentor or sponsor?
I feel so fortunate to have been supported by a number of people throughout my career, but two very special people made huge impacts on my career:
– Robert Acker: Robert was my mentor and former manager at Harman International. He was one of those leaders who you would follow anywhere. I turned down a more lucrative offer at another company so that I could work for him at Aha Radio by Harman because I knew that I was going to learn and grow under his leadership. He was smart, strategic and most importantly, he was kind. Robert always had time to provide a helping hand. He gave great advice and pushed me to be better. He was so supportive of me going to Google and using my time after work to develop my startup. He was the ultimate entrepreneur and tech executive, and he is my role model on how to be great at it all. His death had a profound affect on me, and I think often about what I can do to be more like Robert.  He also inspired me to be fearless and to always work on amazing products.
– Don Katz: Don is the founder of Audible, an Amazon company and someone who I consider to be an informal mentor. He hired me in 2005 to launch the company's mobile business. I still remember him asking me if I knew anything about mobile. When I told him no, he said it did not matter. He believed in hiring smart people and letting them build the business. Throughout the time I worked at Audible, I looked to him as a mentor on how to build a business that people loved, with a focus on customers first. We did not have a formal mentor relationship, but he is someone I look up to – even now. He sets a great example of how to support a city as a corporation (Newark, NJ), as well as how to give back and grow the tech industry (he has a new venture capital fund for startups).
3)  What is your biggest goal right now?
My two big goals are the same as most startup entrepreneurs: (1) build an amazing product that I know customers will love and (2) raise venture capital to stay alive so I can realize goal #1! Goal #2 is intrinsic to goal #1 because so many women-founded startups die in the seed stage. It is the hardest part of fundraising because you are asking that initial angel investor or seed investment fund to take a chance on a business that no one else has had before. It's also hard because so few women have the network established to even be able to pitch to angel and seed investors.
4)  How did you get your first job? How did you jump to your second job?
I am so fortunate to be one of the first people to work in the Internet industry. After college, I knew how to create web pages using HTML, and as a result, after applying for several opportunities, I was recruited to work for Newscorp in NYC. Sadly, the company shut down and more than 80% of the people working there were laid off. Luckily, the summer after college and before Newscorp, I had met John Battelle (CEO of Newco, former executive at Wired, Red Herring, etc.) when I attended the Harvard/Radcliffe Summer Publishing Program. In a class of almost 100 people, I was one of the few who understood how to code HTML, what HotWired was and wanted to work with the Internet. I networked with him and after being laid-off with my fellow employees at Newscorp, I wrote him a letter asking for a job. Wired was growing at the time, and I was fortunate to be offered an opportunity to work as a Staff Producer for the amazing Mark Frauenfelder (Editor-in- Chief of Make Magazine, Boing Boing). I took the job and moved to San Francisco from NYC.
5)  What time do you typically wake up? What do you do every morning?
I usually wake up at 5:30 am. I use that time to check email, plan my day, get updated on news (U.S., International, tech industry). Oh yeah, I also catch up on Facebook and Twitter.
6)  How did you feel on your 30th birthday? What were you doing at that time? 
At 30, I felt like I was growing and learning. I was finishing my first year at law school and getting married!
7)  How do you unplug? How often do you unplug?
I have a brief period of time when I unplug nightly. It's when I put my daughter to bed. I get in bed with her, and we talk and snuggle. We both unwind and talk about my daughter's day: what made her happy, what made her sad, what she wants to do. It's not a long period of time to unplug and as she gets older, it may get even shorter, but it's the best unplugged time I have. It's the time of day that I cherish the most, and my husband says I'm stingy in sharing this with him! Sadly, outside of this brief 30 minutes, I'm usually online since I work in tech.
8)  What challenge / achievement are you most proud of?
I am most proud of bringing digital content – music, podcasts, audiobooks – into the car. I had worked toward what I call "round-tripping" since 2005. Round-tripping is the ability to listen, without disruption and picking up from where you left off, to the same piece of content anywhere you go. But the car, in which the average American spends at least 1 hour a day, always eluded me. In 2006, I got digital content into portable MP3 players like the iPod and into mobile phones, but not directly into cars, although I had started speaking with automakers like Honda at the time. Only when worked at Aha Radio by Harman International from 2010 – 2014 was I able to make digital content in cars come alive, thus allowing for true "round- tripping." I still mentor startups and work on projects related to digital media, devices and connected cars.
9)  What was the last business book you read? 
Not quite the typical "business book" but I'm now reading Hatching Twitter by Nick Bilton. On my list to read is The Third Wave by Steve Case.
10)  What cause do you most want to advance?
#binderfullofwomenfounders and #changetheratio. I started #binderfullofwomenfounders because I fear that we are failing in the technology industry. For all our talk about increasing diversity and being inclusive, things are not changing. The two most important engines for Silicon Valley are new startups and the money that funds them. Those are also the two areas where the most profound changes have not happened. We saw a dip in the number of women-founded companies receiving funding between 2014 and 2015. Every year, I hear about how "This will be the year of the woman" in tech, or how more money will go to minority startups. The reality is that funding amounts have not changed. The only way to change the stats at big companies like Google, or Facebook, is to change the engines that run Silicon Valley. You can't grow unicorns like Google and Facebook without startups and those startups are white and male. It's what the industry believes to be a successful pattern recognition. However, there is more money and more opportunities out there, if we can widen our narrow view to recognize other patterns. It's hard to do. If we want to see a change in the industry that would truly reflect the society we live in – where women are half of the population and minority people are increasing in number – then the companies we fund must reflect that as well. To date, women-founded companies still get low, single-digital funding. This is also reflected by who is giving out the money. There are so few women who are investment partners in venture capital firms. With #binderfullofwomenfounders, I would like to see a change in the ratio for money flowing into women-founded companies and an increase in the number of women venture capitalists. I am joined by 100+ women founders in tech, and also a growing group of male and female venture capitalists who want to see change in the industry. We're starting with funding women, and I hope I can also bring more women into the venture capital side of the equation as well.
11)  What song can't you get out of your head? 
Right now, it's Keep Breathing by Ingrid Michaelson. It's very appropriate right now since I have to sometimes remind myself daily to "keep breathing" as I tackle tons of stuff. But also, it's because it's on my daughter's Google Play music playlist called "Car with Alexandra." It's a great song to sing to.
12)  What is your "keep me going" quote?
Kindness in words creates confidence. Kindness in thinking creates profoundness. Kindness in giving creates love. (from Lao Tzu).
13)  Who on the list of prior Honorees would you like to meet?
There are too many to choose from!
2013:
Anne-Marie Slaughter, Deborah Jackson, Jacki Zehner, Lauren Flanagan, Lesa Mitchell, Trae Vassallo and Bettina Sherick
2014:
Dr. Alissa Johnson, Cindy Gallop, Fran Hauser, Kimberly Bryant, Maria Chrin, Katie Rae and Rachel Sklar
2015:
Melissa Goidel, Sheryl WuDunn, Betsy Beers, Dr. Joan Fallon, Kahshanna Evans and Tereza Nemessanyi
Check out Chia-Lin Simmon's full profile here!