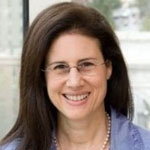 Welcome to the Forty Over 40 blog. Every week we spotlight one of our female disruptors and their thoughts on reinvention, mentorship and momentum…plus a peek into what makes them tick.
This weeks Q & A is with Carol Fishman Cohen Co-founder of iRelaunch; a company connecting professionals returning to work after a career break with employers interested in hiring from this talent pool.
1. What was a pivotal moment of reinvention for you?
Resuming my career at age 42, and after 11 years out of the full time workforce, by joining Bain Capital, and then having that journey become the subject of a Harvard Business School case study.
2. Who has been a valuable mentor or sponsor?
How about role model? One of the highlights of our book research for Back on the Career Track was interviewing Supreme Court Justice Sandra Day O'Connor in person (she hadn't retired yet) about how she returned to work following five years at home with her sons. She is one of my most powerful role models.
3. What is your biggest goal right now?
To demonstrate to employers the quality of the return-to-work talent pool. To enable and document so many return-to-work success stories that hiring a returning professional following an extended career break is no longer viewed as a high risk proposition.
4. How did you feel on your 30th birthday? What were you doing at that time?
On my 30th birthday I was just about to have my first child. Little did I know that, while on maternity leave with that child from my corporate finance job at Drexel Burnham Lambert, Drexel would collapse, precipitating my career break. I went on to have three more children over the next five years.
5. What challenge / achievement are you most proud of?
Together with iRelaunch co-founder Vivian Steir Rabin, we have presented our career reentry strategies to over 12,000 people globally, and have worked with nearly all of the major U.S. return to work programs.
6. What was the last business book you read? 
"Flash Boys" by Michael Lewis (excellent!)
7. What cause do you most want to advance?
I remain on a mission to connect returning professionals with employers interested in hiring them.
8. What advice you would give a 40-something woman trying to return to the workforce? 
Return to work success is not about age or number of years out of the work force. It's all about figuring out exactly what you want to do and being absolutely relentless in going after it.  Determine your strongest interests and skills, and where you can add the most value to an employer. Then go out and tell everyone you know what you are looking to do and why you are the best person to do it
You can read Carol's full #40over40 profile here