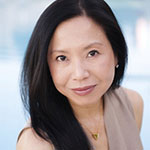 Welcome to the Forty Over 40 blog. Every week we spotlight one of our honorees and their thoughts on reinvention, mentorship and momentum…plus a peek into what makes them tick.
This week's Q & A is with Sue Chen, Founder and Chief Executive Officier at Nova Medical Products, diver and shark conservationist.
1)  What was a pivotal moment of reinvention for you?
The pivotal moment of reinvention for me was when I hit a bottom in my life – both personally and professionally. At 36, I was engaged, in love and an invincible CEO.  One year later, I was in a miserable marriage, feeling like the most vulnerable CEO on the planet and on the brink…of what? – I don't know. But I was now living in a bottomless pain and darkness I had never known. My epiphany in this place was that I owned my emotional bucket.  The same place that inspired love and passion was the the place where now lived pain and resentment.  So, there was the hope. It was the same place. The same bucket where I could rediscover and reignite the love and passion that once thrived in my bucket. How? With the most powerful source to everyone's bucket – meaningful connections. I connected with my customers, my mission, my family, my friends, my employees, my planet – and that reconnected me back to my loves, passion and myself.
2)  Who has been a valuable mentor or sponsor?
My mother.  She is my one woman cheerleading squad who has supported and mentored me my entire life and continues to. No one comes close. And, if you asked my mother this question, she would also say without hesitation, her mother. I've had crazy ideas and big project plans since I can remember. As long as I had a plan and passion, my mother supported the "crazy" ideas and projects regardless of any cultural anchors or barriers that may define a Taiwanese girl or Taiwanese woman. And that means I did many firsts as a Taiwanese girl and woman, from being President of my High School class to producing a documentary to being the first woman Membership Chair of my YPO Chapter. As a 43 year old woman, I know I am here today because of three women – my mother and my two grandmothers. They indeed paved a path that gave me infinite opportunities.
3)  What is your biggest goal right now?
My biggest goal right now is to transform and save the Home Medical Equipment industry, which has been stagnant and declining for decades with very little product innovation, the highest dissatisfaction rates of any healthcare products and moral spiraling down to an eminent bottom. A symbol of this is the grey walker with tennis balls. That walker was developed in 1965 and dirty tennis balls never meant for walkers. The dysfunctional distribution of medical equipment and that lack of innovation and has been controlled and fueled by drastic Medicare cuts and regulations forcing thousands of independent Home Medical Equipment (HME) providers out of business and the remaining paralyzed about their uncertain future. I am not just transforming and disrupting my industry, but imploding and exploding it.  I am giving the entire product segment and dealer channel a180 degree turn and doing much more than making great products and saving an industry, but changing the cultural negative stigma towards people with physical challenges and physical differences.  In the past 20 years, I have been making beautiful, sexy, stylish and empowering medical equipment.  That's right!  Canes in gorgeous prints and styles trending from classics to runway, walkers that are so turbo and "bling-ed out" they turn heads with their leopard seats, colors, brakes, lights, cup holder and designer bags.  And, it's not just the hot products, but our campaigns and missions that fuel everything we do including the Lose the Tennis Balls campaign, Bathroom Safety fall prevention challenge and Mobility Makeovers.  To save and reposition the dealers, I created a program called HME180 that takes the dealer from a Medicare/insurance business model to consumer direct retail – and it is working.  We have hundreds of independent dealers and pharmacies that have embrace the new opportunities in consumer healthcare retail and most of all, loving their business and mission again.  That mission is the greater good that we all share to improve the lives of millions of Americans.
4)  How did you get your first job? How did you jump to your second job?
I grew up in Davie, FL – a small country town in south Florida. Even though we were the only Taiwanese family in own town, like all small towns there is a Chinese Restaurant.  Even though we never ate there, I had good feeling I could get a job there…supply and demand.  So, I when I turned 14 and showed up at our town's Chinese Restaurant, the New Canton Chinese Restaurant, requesting a job, I was hired on the spot to be the Hostess and Take Out Girl. I loved interacting with the customers and realized the value of customer engagement and service. I happily and enthusiastically engaged with every customer except one…and that one was the person I most idolized in my life at that time.  I was the # 1 Dan Marino (Miami Dolphins Quarterback) fan and when he came in to pick up his take out order I had so much to say, but completely clammed up and experienced Lock Jaw…and couldn't say one word.
Second job?  Yep, Chinese restaurant again, but now as a waitress.  I waitressed throughout high school and college and that really taught me the value of exceptional customer service.  And, still hoping have that conversation with Dan Marino…
5)  How do you unplug? How often do you unplug?
I unplug by becoming a Marine Biologist and Conductor of an Orchestra…well, kind of.  I have always loved ocean life and classical music and these loves and passions have become a very active, dynamic and meaningful part of my life. Though I am not a Marine Biologist, I am an avid diver, ocean and shark conservationist, underwater photographer and very connected with the ocean world. Though I am not a Conductor of an Orchestra, I am a classical music aficionado, student and super appreciator of the music, artists and composers. And I do have my own baton…just in case! Immersing myself in these two incredible worlds of beauty and sound allow me to refuel, recover, recharge and reinvent with clarity, new perspectives and I unplug in a powerful way.
6)  What's the best networking contact you've made? How did you make it?
The best networking contact I've made was with Sir Richard Branson. He was kind enough to come out for the Operation Blue Pride shark expedition. Sir Branson is a tremendous leader and advocate for our oceans and sharks, but had never dove with sharks before. I was his dive buddy for his first shark dive where we encountered dozens of sharks including Emma – the famous Tiger Shark. What an incredible experience. We both experienced the beauty and true gentle nature of sharks. During this trip I learned so much from Sir Richard Branson. I learned about graciousness, courage, adventure and about LISTS. As I was making my TO DO list for my new mission and organization – Operation Blue Pride — and feeling a bit overwhelmed, he said, "Keep on those lists. I make lists for all of my ventures. You make lists and cross things off. Keep making lists and crossing things off until you've got something good."
7)  What cause do you most want to advance?
The cause I most want to advance is to improve the lives of millions of Americans who are facing the greatest fear of aging – loss of independence. All people want to remain active and independent on their own terms and in their own homes.  Yet, falls are the 5th leading cause of death for Americans over 65 with 1 in 3 people over 65 falling every year. Most of these falls can be prevented with information, education and some basic products.  I have become a certified instructor in Fall Prevention and Mobility Optimization so I can educate healthcare providers and consumers and do so in a way that creates a movement and mission.  One of the ways I define success for me is to move that stat – Falls are the 5th leading cause of death for Americans over 65 – out of the top ten.  This is one painful healthcare epidemic we can cure.
8)  What is the best piece of advice you ever received?
Just a few months after I started my company, a family friend and great entrepreneur Chris Schmid said to me, "If you're going to do something big, be sure to have partners. Real partners…because with partners, the good times are so much better and the bad times not as bad."   The joy of sharing the highs and comfort in facing the lows has kept my company going, surviving and thriving for 21 years.
10) What is your secret indulgence?
My secret indulgence is playing on my Bosendorfer Grand piano.  I do not deserve such a great piano and sometimes I feel my Bosendorfer deserves a better pianist and one that can perform for others.  A failed piano competition when I was 14 left me with piano performance anxiety and I still struggle playing in front of others.  So, I play and indulge with my beautiful Bosendorfer Grand secretly and happily.
11)  Who on the list of 2013 Honorees would you like to meet?  Paola Gianturco
Check out Sue's full 40 Over 40 profile here!